schloesserlandCARD – free admission and discounts
All information about the schloesserlandCARD
What does the schloesserlandCARD cost and how long is it valid?
Where can I buy a card?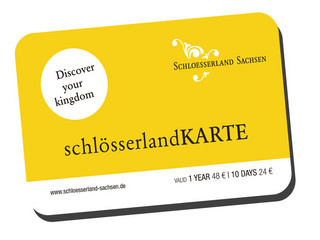 schloesserlandCARD for 10 days*
valid for 10 consecutive days from your first visit
EUR 24.00
Family benefit: You'll get a total discount of EUR 6.00 when you buy two schloesserlandCARDS for 10 days.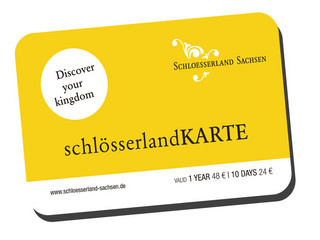 schloesserlandCARD for 1 year*
valid for a whole year from your first visit
EUR 48.00
Family benefit: You'll get a total discount of EUR 12.00 when you buy two schloesserlandCARDS for 1 year.
Where can I get free admission?
Where can I get reduced rates and discounts?
Can I also attend events with the schloesserlandCARD?
Are the palaces, castles, gardens, parks and monasteries open all year round?
Museums
Dresden Royal Palace
reduced rate on the »Royal Palace Ticket« (excluding the Historic Green Vault)
free ascent of the Hausmannsturm at Dresden Royal Palace (open from April to October)
Dresden Zwinger
Glauchau Castle (Hinterglauchau Castle)
free look at the museum areas (e.g. hole of fear, royal kitchen), royal sculpture garden

Others
Zabeltitz Baroque Garden
50% discount on admission to the Zabeltitz Farming Museum
Are there any discounts for people with disabilities?
The very low price of the schloesserlandCARD does not include admission to certain events. Admission to museums is not possible during major events held at a few castles throughout the season (e.g. the Saxon Citrus Days in the Grosssedlitz Baroque Garden in May, the Flower and Garden Show at the Altzella Monastery Park in June, and the International Upper Lusatian Linen Days at Rammenau Baroque Castle in August). In such cases, the schloesserlandCARD is not valid and you will have to pay the full price for the event. Please use our online calendar to find out about any current events before your visit. If in doubt, please contact the venue in advance.
Is the schloesserlandCARD valid for the HistoPad at Meissen Albrechtsburg Castle?
The peak season in Schloesserland Sachsen is from Easter to 31 October. Opening hours are limited from November to March. Please check our website before your visit.
Information before buying
Validity information
The name of the card holder and validity will be entered by the customer service team during your first visit.
Once this information has been entered, the schloesserlandCARD may no longer be transferred to third parties and may only be used with a form of photo ID.
The card cannot be returned.
Lost or damaged cards cannot be replaced.
Use your schloesserlandCARD on your tour of Schloesserland Sachsen