Discover the variety of Schloesserland Sachsen with a »schloesserlandPASS«. Enjoy free admission to 50 estates for only € 20 ten days along or for only € 40 all year round. Travel in the footsteps of Augustus the Strong, visit scenes of former knightstournaments contests and enjoy the calm and relaxation of our gardens and monasteries.
Information about schloesserlandPASS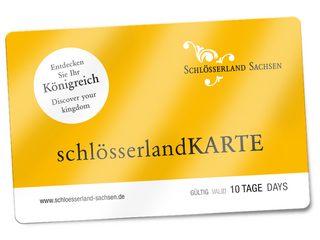 schloesserlandPASS for ten days
valid from the first visit for 10 consecutive days
€ 20
benefit for families: save € 5 by buying 2 schloesserlandPASSES valid ten days.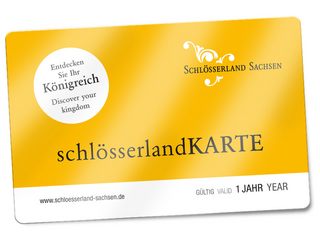 schloesserlandPASS for 1 year
valid from the first visit all year round
€ 40
benefit for families: save € 10 by buying 2 schloesserlandPASSES valid one year.
Buy
You can purchase the schloesserlandPASSES online and at all participating estates.*
* Not available at Freudenstein Castle, therefore in the tourist information Freiberg. Not available at the Dresden Zwinger and Dresden Residential Castle, therefore in the Schinkelwache (at Theatre Square Dresden, beside the Semperoper).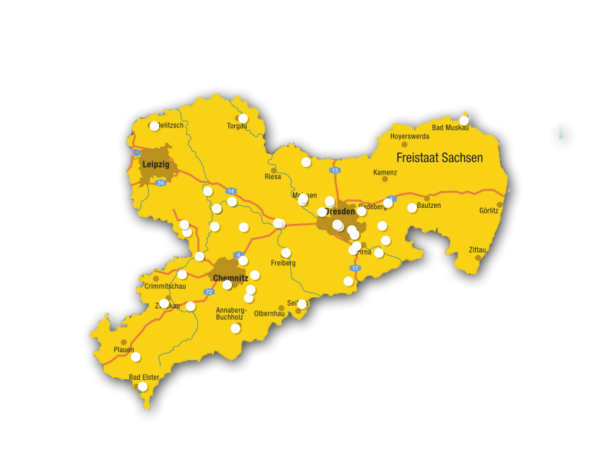 Benefits with the schloesserlandPASS
Both tickets entitle cardholders:
to visit the participating sites as often as they like,
free admission into permanent exhibitions;
reduced admission into special exhibitions*;
two children between 6 and 15 years of age have free admission if accompanied by a cardholder
10 % discount on your stays at selected castle Hotels
Events and guided tours are excluded.
* Discount does not have to be granted for exhibitions of third-party suppliers.
Free admission
Savings
Further Benefits with the schloesserlandPASS
Museums
Dresden Residential Castle
reduced admission on ticket Residenzschloss (except Historical Green Vault)
Free entrance to the Hausmannsturm Tower in the Dresden Residential Castle (open April to October)
Dresden Zwinger
reduced admission on Zwingerticket
Hinterglauchau Castle
free entrance to »Angstloch«, kitchen and sculpture garden
Overnight Stay
European Youth Hostel at Colditz Castle, Dresden-Pillnitz Castle Hotel, Hotel Gaussig House, Hohnstein Castle, Nimbschen Monastary Hotel and Boarding House »Zur Königlichen Ausspanne«, Purschenstein Castle Hotel, The Proschwitz Castle Winery in Zadel

10 % discount on normal room rate for cardholder.
Pillnitz Castle and Park
10 % discount on the rent for the »Little Watchhouse«
Further savings
Royal Spa Bad Elster
5 % discount on services from the tourist information Bad Elster (e.g. guided tours and concerts)
Fürst-Pückler-Park Bad Muskau
The ticket holder receives the broschure »Parkspaziergang« with a park map during the closing time of exhibitions (from November till March).
Park Railway in the Grand Garden of Dresden
50 % discount on normal tickets
Pheasant Castle Moritzburg
Reduced admission on a guided tour
Wackerbarth Castle
10 % discount on the pleasure tour Wine & Champagne
5% discount on all services in the restaurant
5% discount on champagne or wine purchased in the market
Zabeltitz Baroque Garden
50% discount on admission to the »Bauernmuseum«
10% discount on souvenirs at the Zabeltitz Information (excluding books and broschures)
Payment and Delivery Terms
Delivery:
inside Germany: Delivery time of 3-7 business days
outside Germany:Delivery time of 1-4 Weeks
Payment:
Shipping of schloesserlandKARTEN made only with invoice
No credit card
within EU: SEPA Credit Transfer
outside EU: bank transfer
Informationen vor dem Kauf
Notice
Note the opening times of the participating institutions.
The name of the cardholder & validity are entered by service personnel during the first visit. The schloesserland-PASS is then non-transferable and only valid in conjunction with a photo ID.