Enjoying all your senses – could be the title of the culinary journey of Schloesserland Sachsen. Eating and drinking has always been among the things for which people meet, which they share and enjoy together. Thereby, traditions and new influences often charmingly interplay with each other. In that sense, our November route »The Joy of Culinary Living« would like to carry you off from your daily routine.
[Translate to English:]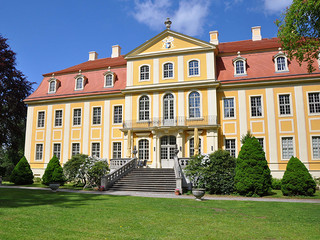 Rammenau Baroque Castle (B)
Saxony's most beautiful estate of country Baroque is situated in the very west of the Upper Lusatian region. The late-Baroque und early-Classicist rooms have comprehensively been restored, taking the visitor back in time to around 1800. The castle and park have been the property of the Free State of Saxony since 1993.The extraordinary is presented by the chef de cuisine and the chambermaids: multi-course meals are served in historical dining rooms, which surprisingly and deliciously combine original Lusatian genuineness with Mediterranean freshness.The highlight of baroque joie de vivre is a 16-course meal.Visitors can take cookery courses in the castle kitchen, cooking with the chef de cuisine, accompanied by the chambermaid. Fresh ingredients from the region and fresh herbs from the herb garden are the basis for a delicious meal. Sugar-covered cakes and breadrolls can be baked in the stone oven. Available for groups of 10 persons or more and upon request, this will be an unforgettable cooking experience.