Schloss Wackerbarth (A)
The thrill from the joy of living
Wackerbarth Castle – it almost sounds like a name from a fairy tale. And it would seem that what awaits the visitor here is truly fabulous: a unique ensemble of castle and the summer house >>Belvedere<<, Baroque gardens as well as modern wine and champagne production in the middle of the magical landscape of the Elbe valley.
A lingering pleasure is Wackerbarth's own champagne, which has been produced here for over two centuries. Only Saxon grapes ferment here in the second oldest champagne cellar in Germany by means of the classic method – in the bottle – until they have a special fruity flavour. Visitors can taste for themselves these quality products from the Saxon state vineyards.
Visitors can also wonder at the transparent production of champagne and wine here, feast on fine food and of course take vintage samples home with them. Vintner brunch, vineyard walks and wine tours also tempt you to stay awhile.
Details about Wackerbarth Castle
Further to station (B) – Rammenau Baroque Castle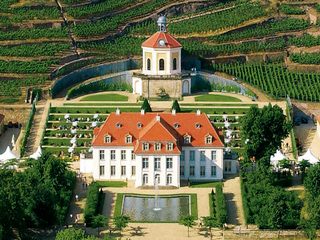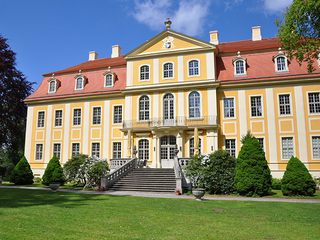 Rammenau Baroque Castle (B)
Guest of the chambermaid
On the edges of the Lusatian mountains, there is one of the most beautiful country Baroque estates in Saxony. Completely restored, Rammenau Castle beams as a masterwork of Saxon country Baroque; harmonic, with classical decoration. The visitor will not only find varied and aesthetic satisfaction on account of the inner architecture, but also in a culinary sense.
In the dining rooms of the restaurant, the chef and waitresses serve extraordinary dishes, which demonstrate how to combine Lusatian solidity with Mediterranean freshness. The highlight of Baroque enjoyment is a 16-course meal.
The visitor can also take cookery courses in the castle kitchen, cooking with the chef in historic rooms, and accompanied by the chambermaids. Fresh ingredients from the region and fresh herbs from the herb garden are the basis for a delicious meal. Sugar-covered cakes and rolls can be baked in the stone ovens. Available for groups of 10 persons or more and upon request, this will be an unforgettable culinary experien.
Enjoyment with all your senses – that is how a culinary journey through Schloesserland Saxony can be described. Eating and drinking are one of the things through which people meet, exchange and have fun. Tradition and new experiences are often an interaction when this happens.
Our November route "The Joy of Culinary Living" will guide you away from the everyday into the world of cuisine and good food.
[Translate to English:]